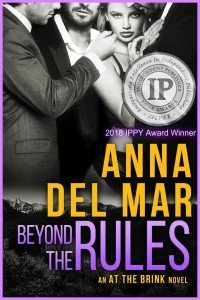 I don't write to win awards. I write to delight my readers. But I have to admit, I'm very proud that Beyond The Rules won the National Silver IPPY. Why? Because the IPPY is a very special award. It seeks to recognize authors and publishers who take chances and break new ground. And that's exactly what I try to do with each of my books. Hot, sizzling, explicit and daring plus a sprinkle of writing excellence? Explosive erotic romance.
Yep. That's what I'm going for.

A.
Independent Publisher Book Awards Press Release
For Immediate Release: IPPY Award Winners Announced for 2018:
The medalists in the 22nd Annual Independent Publisher Book Awards have been announced, and they represent a snapshot of America today: a melting-pot of colorful, vibrant immigrant voices and cultural influences. Independent publishing has long been known for its dedication to diversity and gender equality, and this year's IPPY winners prove that out, with over 60% female authorship among the winners.
Launched in 1996 and conducted each year to honor the year's best independently published books, the IPPY Awards recognize merit in a broad range of subjects and reward authors and publishers who take chances and break new ground. Small presses, university presses, and self-publishing services give experimental and entrepreneurial authors a platform to share their stories, impart wisdom, and speak out against ignorance and prejudice.
IPPY medal-winning books will be celebrated on May 29th during the annual BookExpo publishing convention in New York.
For more: http://www.independentpublisher.com/article.php?page=2302