Hello everybody,
I'll be on break until January 10, but before I go, I'd like to wish you a joyous holiday and a fantastic 2018. Those of you who subscribe to my newsletter got your present early. Hint, hint, you are missing out if you haven't subscribed here. But don't worry. Below is another little gift I want to share, from me to you, with much love.
A.
Anna's Easy, Bubbly, Sexy Sangria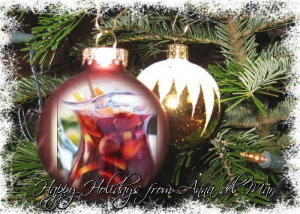 In our home, the holidays are all about family, about coming together to celebrate our blessings and have fun. We're a global bunch and people travel from all over to gather at our house. There are lots of laughter and an excess of delicious foods. But the star of the evening is my Mom's sangria.
Ingredients:
1 bottle of your favorite red wine
2 oranges
2 apples
1 lemon
1 tablespoon of sugar
1/2 a liter of Sprite or Seven Up
Preparation:
Begin with a bottle of wine. I prefer a Cabernet Sauvignon, but you can choose your favorite red. Hint: The wine doesn't have to be fancy or expensive, just full-bodied and delicious.
Next, slice oranges into thin wheels and cut up a couple of tart apples into small, square pieces. I use a red and a green apple to add variety to the flavors. Set the oranges aside and marinate the apples in a half a cup of wine. You can prepare the fruit early and keep it fresh and cold in the refrigerator.
When you are ready to serve, pour the reminder of the wine into your favorite festive pitcher and add two cups of cold Sprite or Seven Up. Hint: You can adjust the alcohol level by playing with the wine to fizz ratio. Testing this ratio is half the fun.

Add a half tablespoon of sugar and mix well. Taste. Add more sugar if you like your cocktails sweet. Reduce the sugar amount by half if you're like me and prefer less sweetness in your sangria.
Add orange slices and marinated apples. Add a few squirts of fresh lemon. Serve over ice if you like your cocktails fizzy and cold like I do. Make sure everyone gets apples and oranges in their glass. Garnish with orange wheels.
Special Additions:
Lots of love.
Your family crowding the kitchen.
Your honey nearby.
Tons of laughter.
 Happy holidays!