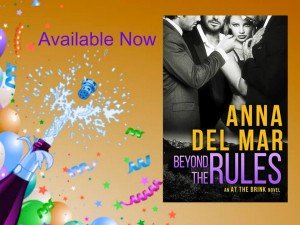 Hello everybody,
Beyond the Rules is out today, available from Amazon, B&N and Kobo, right now.
 The release of a new novel is always a joyous occasion for an author, summit day after a long, arduous trek. For me, release day is yet another opportunity to thank the many people who contributed with their hard work and talents to the making of Beyond the Rules.
 A huge load of gratitude goes to my editor, Nancy Cassidy, whose valuable insights challenged me to realize the full potential of each of the characters in Beyond the Rules. At a time when publishers are mostly buying wham-bam thank you ma'ams, she reminded me that the brain is the most important sexual organ and that there's still a place in the world for sizzling and smart, panty-melting and top quality, the kind of erotic romances I'm committed to writing.
 My sincere thanks to Donna Alward, who polished the final versions of this manuscript to a shine. Donna is also the author of over forty sweet and bright contemporary romances. Her work on Beyond the Rules is greatly appreciated. 
 Thank you also to my hubby, family, and friends, who put up daily with my writing addiction. You guys rock!
 Thank you especially to the wonderful folks who help promote my work, including Aileen Aroma and her street team, my peers and fellow writers who walk the road with me, and the hundreds of bloggers who help get the word out every day. Special gratitude to all the dedicated reviewers who take the time to post awesome reviews of my novels. You guys have a special place in my heart.
 And as always, thank you, the reader, for supporting my career, for spending your precious time reading my stories, and for allowing me the extraordinary privilege of writing for you.
 A.