I just lo-oh-ved this amazing review of Beyond the Rules. So I had to share:
5 out of 5 stars!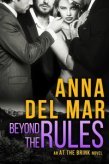 This review is going to be in three parts because it deserves lots of attention from all aspects. Tanner, Zar, and Aiden understand this concept well.
First, let me begin by applauding the author on the polish of Beyond The Rules. In nearly every technical aspect, this piece was clean. No plot holes, no glaring grammatical errors, no unanswered questions, no word echoes. Truly a very well written manuscript. However, in all honesty, there may have been tiny issues that were completely overlooked because…
The second point: holy hotness Batman! Ms. del Mar obviously was challenged to write as steamy of a piece as possible and then exceeded every expectation. While there were certainly tender and loving scenes, there were also incredibly desperate and heady encounters that left me reaching for the nearest cold drink. As much as I loved every highly charged and well depicted sexual encounter, I was just as appreciative for the sweet moments, both from the guys and from Nina. She is truly more than just their own sex kitten; she heals them each in very different ways and they her.
Finally, the suspense! Often a book with this kind of themes is simply erotica (and there is exactly zero wrong with that!) but Beyond The Rules manages to offer an intriguing and interesting plot full of mystery that had me often holding my breath and swallowing past a lump of fear.
This is very well-done, and I am thrilled to offer the very first 5 star NetGalley review from this reader.
https://www.3bookbabes.com/beyond-the-rules-book-review/
Thanks to 3bookbabes.com for this awesome review. I'm so honored! And thanks also to all of you wonderful readers who take the time to read and review my novels.  A.