So, have you heard? My newest erotic romance is a ménage titled Beyond the Rules. This is my first ménage and, classic me, I went all the way and made it a ménage a quatre. Yes, not one, not two, but three extraordinary alphas and one really smart girl, a very lucky woman.
In the story, Nina is a brilliant hacker who crash-lands in the rugged mountains of Montana. She's fleeing from a deadly enemy and a painful past, and runs straight into the arms of three hot, sexy, mysterious ex-SEALs who have an agreement to share everything and that includes–yup, you guessed it–her.
Tanner Vazquez is a healer at heart, a kind, giving, thoughtful personality profiler, a man who soothes Nina's broken heart. Aiden Black is sweet, earnest and straightforward, a techy with an off-the-charts IQ who understands how her mind ticks. Balthazar Flint is an enigma, passionate, hard, intense. When he glares at Nina, she has to repress an impulse to kneel at his feet and ask for mercy. He's a man who could very well unlock the darkness in her soul.
Yummy. No wonder she falls for all three!
The ménage meant I had to juggle four POVs, four completely different characters, and four different approaches to life, romance, and sex. But, hey, I do love a challenge.
So I went for a deliberate, simmering, erotic buildup, where Nina develops sexy, distinct, and nuanced relationships with each man before they give it a go in a group setting. Next I knew, this foursome broke all the rules and the novel caught on fire.
Which left me wrestling with the logistics of an all-out conflagration. Logistics, yes. When you've got a three to one ratio in bed, one must remember the basics:
Every part has an owner and every owner has his parts.
The owners–like their parts–are not interchangeable.
So don't mix, but do match.
Keep track of every person and every part in every situation.
Neither part nor person can be in more than one place at the same time.
Flexibility is desired, in mind and body, but flesh and bone? They only bend so far.
Gravity matters.
Pleasure is the objective but love is the goal.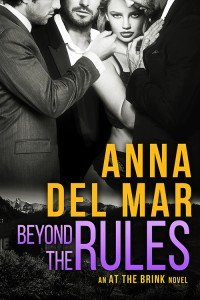 Available now for Amazon and your favorite bookseller