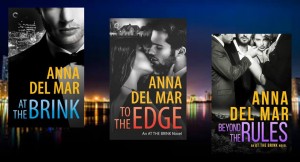 T: You are known for your bestselling romantic suspense. Why do you write erotic romance?
AdM: You are absolutely right. Most people are familiar with my romantic suspense novels, The Asset,  The Stranger and The Guardian. But I also love to write erotic romance for my more audacious readers, novels like At the Brink, To the Edge and now Beyond the Rules.
My erotic romance novels feature sizzling, heart-warming romances and graphic, kinky, really intense sex scenes. But they also have a strong element of suspense, intricate plots, and characters who matter in and out of bed. Whether I'm writing romantic suspense or erotic romance, quality matters.
I write erotic romance because I think that sex is an important, natural part of our lives that should be celebrated, not suppressed. I'm always shocked by how we, as a society, continue to be so repressed and repressive on the topic of sex. We are constantly projecting sexual and sexualized images in all of our media and yet most aspects of sex continue to be taboo. Why? Let's talk about! Let's embrace sex in all of its positive expressions.
In my erotic romance, sex is a good thing–cathartic, transformative, healing; fun and panty-melting hot, but also meaningful. In the context of love, sex is a sublime subject.
T: Your latest erotic romance release, Beyond the Rules, is a ménage a quatre. Why a ménage and how was it different to write?
AdM: I love to explore sex and love in all of its forms. Beyond the Rules is a ménage that features three very sexy, brawny alphas and their mission to conquer one woman's heart. In the story, Nina Leon is a brilliant hacker who crash-lands in the rugged mountains of Montana while fleeing from a deadly enemy and a painful past. She runs straight into the arms of three hot, brave, mysterious ex-SEALs who have an agreement to share everything. And now, that includes her.
Writing a ménage meant I had to juggle four POVs, four completely different characters, and four different approaches to life, romance, and sex. But, hey, I do love a challenge. I really enjoyed writing three very distinct alpha males, Tanner Vazquez, Aiden Black, and Zar Flint. I loved getting into their heads and understanding who they were and why. Each guy has his own set of strengths and weaknesses, traits and quirks. Each guy is attracted to Nina and appeals to her in a different way. And each man is eye candy in every way.
In addition, each guy has his own very specific sexual preferences. Aiden's generally vanilla, Tanner's flexible, Zar is all about kink. Variety only added layers to the story, fun, sexy, supremely erotic layers that caught this novel on fire.
T: How does Beyond the Rules fit in with the rest of your work?
AdM: Beyond the Rules is in the vein of At the Brink and To the Edge. The cool thing about all of my novels is that you don't t have to read them in any particular order. If you've read the other novels you may recognize a character here or there, but you won't be missing a thing. I promise.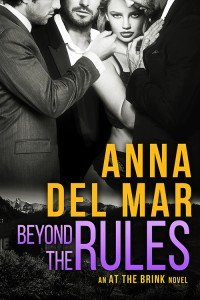 Available now from Amazon and your favorite bookseller